The World Sustainable Development Summit (WSDS) 2022 brought together on one platform heads of state and government, Ministers of Environment from a dozen countries, representatives from the United Nations, other inter-governmental organisations as well as industry, along with delegates from 143 countries and over 12,000 registered participants. In his inaugural address, Prime Minister Mr Narendra Modi made a concerted pitch for global action to combat climate change. Held virtually from February 16-18, the delegates deliberated on the theme 'Towards a Resilient Planet: Ensuring a Sustainable and Equitable Future'.

Watch: WSDS 2022: Inaugural Session: World Sustainable Development Summit 2022
| | | |
| --- | --- | --- |
| In his inaugural address, the Prime Minister called for global alliances to tackle climate change. "Our commitments to the planet have also been fragile. A lot has been said over the last 50 years since the 1972 Stockholm Conference. Very little has been done. But in India we have walked the talk," Prime Minister Mr Narendra Modi said. | | |
| | | |
| --- | --- | --- |
| | | Apart from Mr Kerry, the ministerial session on 'Ambition and Action in the Critical Decade for addressing Climate Change and Realizing Sustainable Development', was attended by Ministers of Environment from Canada, Norway, Germany, Finland, France and Spain. |
| | | |
| --- | --- | --- |
| In a ministerial session on 'Sub-national Leadership for Inclusive Green Growth' attended by Mr Aaditya Uddhav Thackeray, Minister of Environment, Government of Maharashtra, Dr Palanivel Thiagarajan, Finance Minister, Tamil Nadu, and Mr James K Sangma, Minister for Forest and Environment, Government of Meghalaya, the idea of a dedicated environmental council composed of representatives from the Centre and the states was mooted. | | |
| | | |
| --- | --- | --- |
| | | In his valedictory address, Mr Abdulla Shahid, President of the 76th session of the UN General Assembly and the Foreign Minister of Maldives, made an emphatic pitch for multilateralism. |
| | |
| --- | --- |
| | ASEAN-India High-Level Conference on Renewable Energy |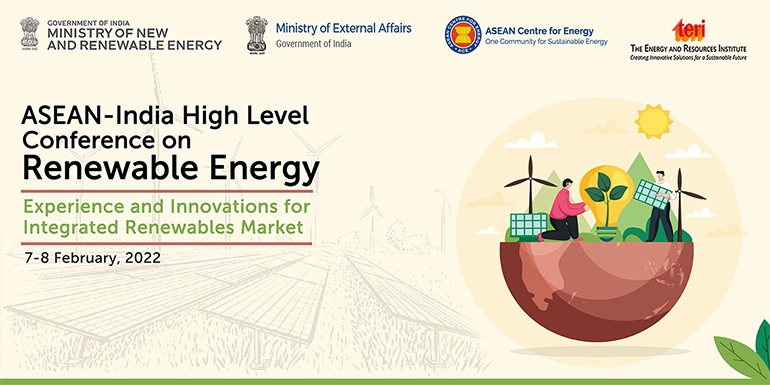 TERI and ASEAN Centre for Energy, in association with, The Ministry of New and Renewable Energy and Ministry of External Affairs, GoI hosted the two-day virtual conference from February 7-8, 2022. Dignitaries from India and ASEAN member countries held critical discussions on renewable energy technology, policy and regulatory frameworks on RE deployment.



| | | |
| --- | --- | --- |
| | | A book on TERI's founder-director Dr RK Pachauri titled 'Dr RK Pachauri: The Crusader Against Climate Change' was released at WSDS. Friends and colleagues of Dr Pachauri recalled his passion for climate action and the deep friendships he forged in the process of working towards his goal of sustainable development. |
TERI's Policy Briefs on Strategies to Decarbonise the Transport Sector
The Union Budget 2022 renewed the focus on enhancing the Indian Railways' freight market share in addition to achieving the target of decarbonising the transport sector. At the WSDS, TERI launched two policy briefs that expand on the Freight Forwarding Scheme, the barriers to it and the measures to overcome them. The second brief is on the interventions related to freight terminal development, and the concerns discouraging the private players from investing in its development.


| | |
| --- | --- |
| | Launched at the WSDS, the book introduces readers to grid-connected rooftop solar systems for the residential sector. It provides information on the benefits of generating electricity through rooftop solar systems. |
| | | |
| --- | --- | --- |
| The third edition of the Youth Climate Conclave -- an initiative of the Delegation of the European Union to India -- hosted by TERI with GIZ India and CEEW concluded on February 11. The two-day program had presentations by high-level experts on climate change, global community's response to achieving 'net zero' targets, and more. | | |
| | |
| --- | --- |
| | TerraGreen's cover story in February speaks about India's mining sector and the need for resource efficiency and circular economy to balance growth and minimise the sector's negative impact on environmental sustainability, social inclusion, and economic development. |
Copyright @ 2022 TERI
TERI (The Energy and Resources Institute), Darbari Seth Block, IHC Complex, Lodhi Road,
New Delhi - 110 003, INDIA
Tel. (+91 11) 2468 2100, Fax (+91 11) 2468 2144 and 2468 2145,
E-mail mailbox@teri.res.in