| | | |
| --- | --- | --- |
| | INDIA'S CONSTRUCTION INDUSTRY TO MAKE A STRONG RECOVERY IN COMING YEARS | |
| | |
| --- | --- |
| | STUDY ON REVISION OF GUIDELINES FOR FRAMING OF BUILDING BYELAWS BY CANTONMENT BOARDS |
TERI successfully completed the study on framing of suitable FSI/FAR and building byelaws for the development of civil areas in cantonments for DGDE, Ministry of Defence, Government of India. The study included visits to cantonments of Agra, Lucknow, Mhow, Pune, Ranikhet and Secunderabad along with the interaction with the CEO, DEO of the cantonment boards and other officials.
| | |
| --- | --- |
| | INTEGRATED DAYLIGHT SYSTEMS AND THERMAL COMFORT FOR COOLING DOMINATED INDIAN RESIDENTIAL BUILDINGS |
The Mahindra TERI Centre of Excellence (CoE) for Sustainable Habitat, a joint research initiative of Mahindra Lifespaces and The Energy and Resources Institute (TERI), is conducting an online survey pertinent to a project sub-activity focused on Integrated Daylight Systems & Thermal Comfort for Cooling dominated Indian Residential Buildings. The objective of survey is to ascertain the approach followed by building designers & practitioners on a day-to-day basis, and identify the gaps in design of residential buildings for occupant thermal comfort and daylight. This will help in establishing the predominant design practices and considerations that significantly impact the occupant thermal comfort and energy consumption in residential buildings.

We invite expert opinion of building industry professionals including architects, engineers, academicians and other relevant personnel to kindly fill the survey which can be accessed through the below survey link: https://docs.google.com/forms/d/e/1FAIpQLScYXc5mMiZ-wNVUk63d-xXHecF4k4GAamFAV9q8YtYMcxUMgQ/viewform

| | |
| --- | --- |
| | SUPPORTING PUBLIC POLICY COHERENCE |

Sustainable Buildings Division, TERI has been awarded the project by Bureau of Energy Efficiency (BEE) to provide technical assistance to implement the Energy Conservation Building code (ECBC) and Eco Niwas Samhita (ENS) in the state of Odisha and Union Territory of Ladakh. The project time-period is of 2 years and aims to provide technical assistance in the form of Cell to ensure effective implementation and enforcement of building energy efficiency schemes in the State.

One of the key tasks of the project is to organise ECBC & ENS awareness and training programmes for building sector stakeholders e.g., administrators, government officials, architects, engineers, developers, builders, municipal officials etc. One such awareness workshop was organised in the Collectorate Office, Angul, Odisha on 7th September 2021. The workshop was conducted by ECBC Master Trainer Mr Rana Pratap Poddar and assisted by ECBC Cell consultants Mr Ashoka Nanda and Ar Tarkesh Mishra. The Workshop was chaired by ADM (Additional District Magistrate) Mr Tapan Satpathy. The meeting was attended by 36 participants including Architects, Engineers and Administrators from the district of Angul who represented various departments and agencies including R&B, Department of Energy, TAMDA (Talcher Angul Meramandali Development Authority), Collectorate, TSBSL, NTPC, JSPL, NALCO, GMR AND MCL.
| | |
| --- | --- |
| | REPORT LAUNCH ON WATER SUSTAINABILITY ASSESSMENT OF GURUGRAM |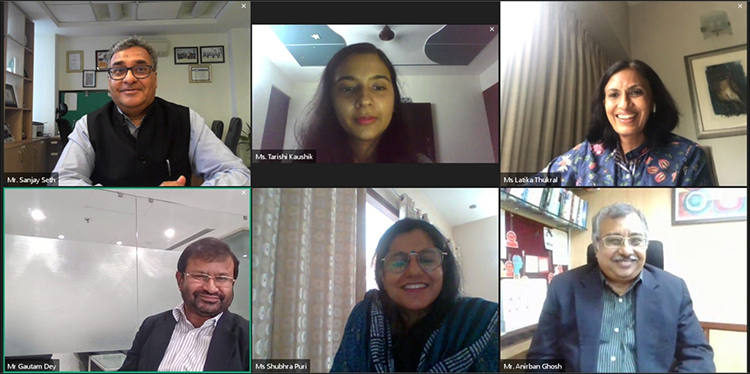 Mahindra Lifespaces (MLDL) and Sustainable Habitat Program, TERI jointly released a study on 'Water Sustainability Assessment of Gurugram' on the occasion of 'World Nature Conservation Day'. A webinar was organised for the launch of the report and to share the findings of the study, emphasizing the need for sensitizing the end users on water conservation and its management. The event brought together stakeholders from various domains such as real estate developers, architects and NGOs, to discuss the challenges and opportunities on water sustainability in Gurugram.

This is the third report in the series after Pune and Chennai, which shows the water sustainability assessment of Gurugram city, with study identifying potential risks associated with water governance, infrastructure and demand & supply and provide recommendations to mitigate the same. The report envisages the future of the water sustainability in Gurugram and concerns related to it.
Click here to download a copy of the Report

| | |
| --- | --- |
| | TESTING INFRASTRUCTURE AUGMENTATION AT MTCOE FOR THERMAL CHARACTERIZATION OF BUILDING MATERIALS |
Recently Mahindra TERI Centre of Excellence (MTCoE) has augmented the building material's thermal characterization capabilities of the lab by inducting the Emissometer model AE1 with the scaling digital voltmeter. The Emissometer with scaling digital voltmeter is a special purpose instrument for measuring hemispherical emittance in compliance with ASTM C1371. The instrument is applicable for both flat as well as non-flat surfaces for thermal emittance measurements. For installed surfaces emittance can be measured in place.

So far around 20 building materials have been tested for thermal emittance with a great accuracy and precision.

The total count of the building materials tested at MTCoE for different thermal properties such as thermal conductivity, thermal diffusivity, thermal transmittance, volumetric specific heat capacity etc. has achieved a milestone of 150 samples.

For more information regarding material testing please contact:
sbmail@teri.res.in or info@mahindratericoe.com
| | |
| --- | --- |
| | STRATEGIC PARTNERSHIPS AND COLLABORATION |
Sustainable Building (Delhi), TERI
Core 1B, Third Floor
India Habitat Centre, Lodhi Road
New Delhi – 110003
Email: sbmail@teri.res.in
Tel: 011-24339606-08, 011-46444500