INTRODUCTION TO GREEN BUILDING PROFESSION: SKILL TRAINING & MANAGEMENT PROGRAMME
Current times have presented before us challenges we might not have anticipated. Regulated assembly of people at one place have also affected the way we did impart and gain knowledge every day. This calls for an update in the mode of learning.

Sustainable Habitat Programme, TERI, has launched the "Introduction to Green Building Profession: Skill Training & Management" programme. We envisage it to be the first step to becoming a green building professional, for final year students, fresh graduates and young professionals seeking to understand the green building industry better.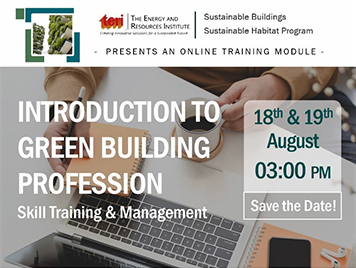 The K ECBC 2014 had been updated as KECBC 2018 and notified in the Karnataka State Gazette on 28th May 2020. The Code is mandatory and the enforcement of the Code came into effect in the State from the date of notification for efficient use of energy in the Commercial Buildings.
'Introduction to Green Building Profession: Skill Training & Management' programme launched.
'Web-S: Unlocking Sustainability 2020' a series of six webinars on mainstreaming resource efficiency in the built environment launched

1.KPMG (2020). Covid-19: assessment of economic impact on construction sector in India
International Conference 'ANGAN' on Building Energy Efficiency organised in New Delhi - 9th - 11th September 2019

TERI played the role of being the Knowledge Partner for organizing ANGAN (Augmenting Nature by Green Affordable New-habitat), a 3-day International Conference on behalf of the Bureau of Energy Efficiency (BEE) of the Government of India and Deutsche Gesellschaftfür Internationale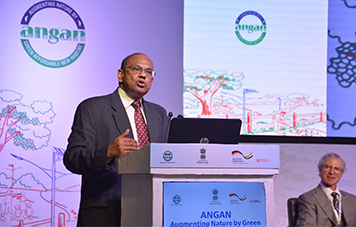 The success of the event could be gauged from the fact that it brought stakeholders from more than eleven nationalities on a common platform to address critical issues in the domain of building energy efficiency.
KNOWLEDGE EXCHANGE PROGRAMME
The University of New South Wales (UNSW), Sydney, Australia suggested on ushering of a new partnership between TERI, GRIHA Council, Deutsche Gesellschaft für Internationale Zusammenarbeit (GIZ),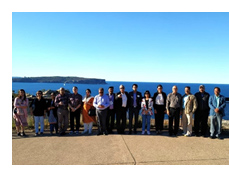 and UNSW. In this regard, TERI organized a 'Knowledge Exchange Programme cum Field Visit on built environment framework through implementation pathway of Australia – strategies for EcoNiwas Samhita' from August 11–17, 2019 in Charles Darwin University, Darwin and UNSW, Sydney for a delegation from India comprising of Central/State government officials.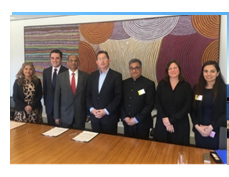 TERI and UNSW signed a MoU on August 15, 2019 identifying broad areas of mutual interest for collaboration through applied research.
IMPACT OF

COVID 19 PANDEMIC

ON CONSTRUCTION SECTOR1
13 to 30% reduction in Investments
15 to 34% reduction in Gross Value Added
11 to 25% reduction in employment
20 to 25% rise in labour costs for skilled workers.
10-15% rise in labour costs for semi and unskilled workers.
COVID-19: A strategic opportunity for sustainable development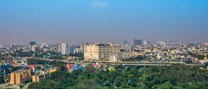 -Mr Siddharth Jain

The sector-specific allocations for health, education, and infrastructure the Union Budget 2020-21 collectively make up only a fraction of India's GDP. Our rapidly developing economy is threatened in the wake of a new global pandemic, COVID-19.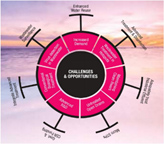 COVID-19 and Water Industry: Challenges and opportunities in the new normal
-Dr. Nupur Bahadur

The published article is an invited contribution in the 20th Anniversary Special Issue of Everything About Water magazine, June 2020. It focuses on various challenges present before the Water Industry during COVID-19 pandemic and how with every challenge lies an opportunity in the new normal.