Dear Reader,
The critical annual climate negotiations – the Conference of Parties (COP) -- is slated to open at Sharm-El Sheikh in November. As the world gathers in Egypt for the 27th session of COP, TERI organised a series of events and conferences in the run-up to the session. From the visit of the High-Level Champion for the UNFCCC COP27 to TERI's field station in Gwal Pahari to a National Conference on COP27 Compass under the Act4Earth Initiative facilitating discussions aimed at raising ambition at the national and global level, COP27 was at the front and centre of TERI's work in October.
The 27th Conference of the Parties (COP27) under the United Nations Framework Convention on Climate Change will be held in Sharm El-Sheikh, Egypt from November 6 – 18, 2022. The COP27 is expected to engage with issues relating to enhanced transparency framework, mobilization of long-term climate finance, adequacy of mitigation commitments by the Parties, the Global Goal on Adaptation, implementation of Article 6 (market-based mechanisms), Warsaw International Mechanism for Loss and Damage, Implementation of gender-responsive climate actions, and other agenda items.

TERI will be involved in several events as an organizer, co-organizer, and panelist at COP27. These events focus on a wide range of issues including enhanced transparency, climate finance, decarbonization pathways, vulnerability and adaptation, technological change, and climate governance.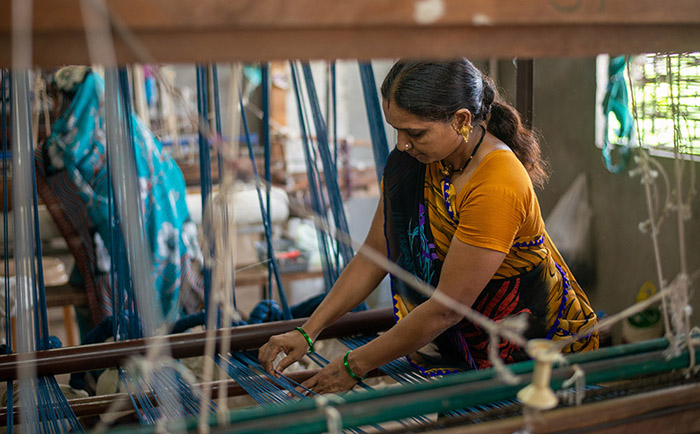 TERI launched the SNAPFI study on 'Financing Low Carbon Transition in India's MSME Sector' bringing out key recommendations to tackle the financial challenges for India's MSME sector and facilitate its low carbon transition. Developed as part of a multi-country project- Strengthen National Climate Policy Implementation: Comparative Empirical Learning and Creating Linkage to Climate Finance (SNAPFI), the study illustrates state and center policy linkages by applying the theory of convergence and divergence as a policy analysis tool to curb the total energy consumed by MSMEs in India's industrial sector.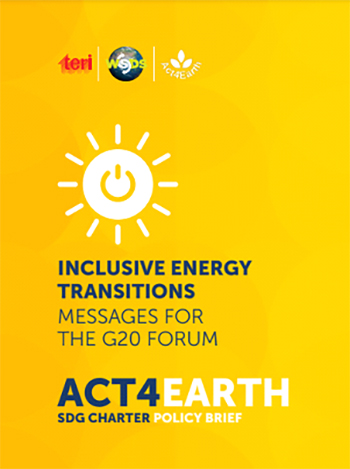 TERI's new policy brief on 'Inclusive Energy Transitions' underscores the imperative need for G20 countries to focus on inclusive clean energy transitions from a demand-side perspective.



Harvest rainwater for water security



In this oped in The Hindu BusinessLine, Dr SK Sarkar, Distinguished Fellow, and Dr Snehlata Tigala, Associate Fellow, TERI, moot the need to implement an integrated water management plan at the local level to ensure water security.



Indian Diplomacy: Combating Climate Change



In this interview with DD India, Dr Vibha Dhawan, Director General, TERI, highlights the non-uniform impacts of climate change and the factors that make India particularly vulnerable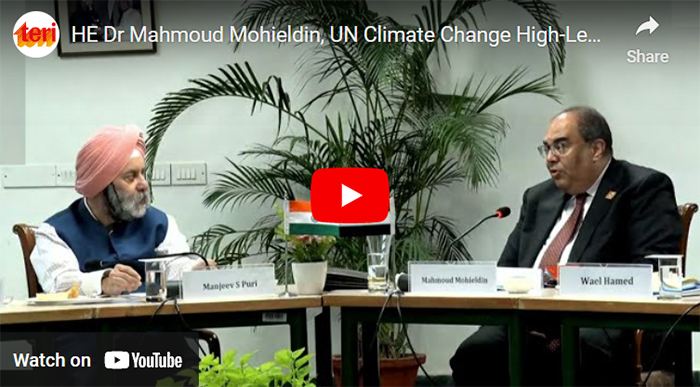 The UN Climate Change High-Level Champion for the UNFCCC COP27P, H.E. Dr Mahmoud Mohieldin and Ambassador, Embassy of the Arab Republic of Egypt, H.E. Mr. Wael Mohamed Awad Hamed visited TERI's field campus at Gwal Pahari on October 6.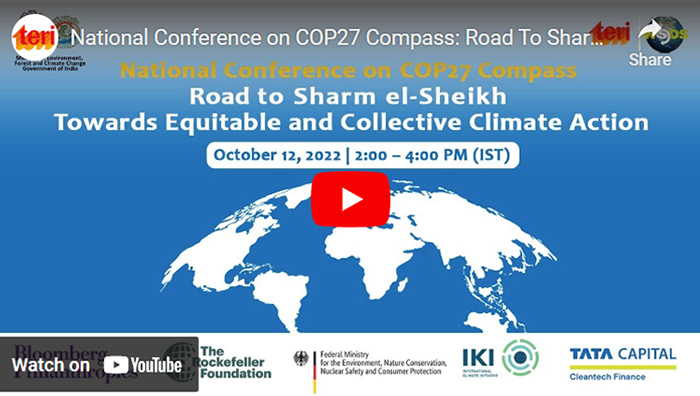 TERI organized a National Conference on 'COP27 Compass Road to Sharm El-Sheikh: Towards Equitable & Collective Climate Action for experts-led discussions around raising climate ambition at the national & global levels on October 12. The conference disseminated the messages from COP27 policy briefs and facilitated discussions aimed at raising ambition at the national and global levels. Mr Parameswaran Iyer, CEO, NITI Aayog delivered the Leadership Address on 'Lifestyle for the Environment – LiFE' at the conference.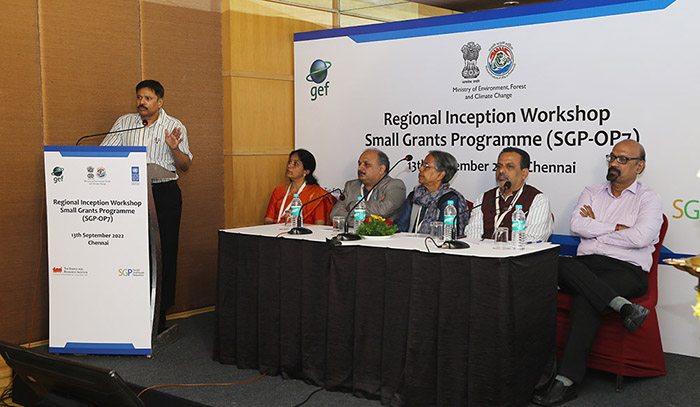 Regional Inception Workshops for the implementation of the GEF Seventh Operational Phase of Small Grants Programme in India (SGP – OP7) were held in Chennai, Bhopal, and Guwahati. The SGP-OP7 aims to provide financial and technical support to local communities, community-based and civil society organizations, mostly in poor and often remote areas, for initiatives that conserve and restore the environment while enhancing people's livelihoods and well-being.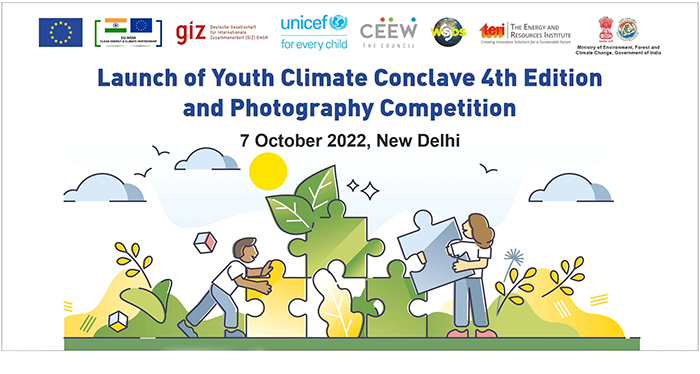 As part of the fourth edition of Youth Climate Conclave (YCC), TERI is organizing a Photography Competition on 'Smart Choices for a Sustainable Future' for children and youth between the age group 10-18 and 19-25 years. As part of the competition, participants are required to submit photographs capturing the essence of positive climate actions in the country at the individual, local, regional, or national levels.
Last date to apply: November 30, 2022