July 2021:
News,Views and Updates from TERI
Hello,

In this issue of the newsletter, we bring to you our latest assessment report on water sustainability in Gurugram, a report on mobilizing the private sector for developing climate resilient infrastructure in India, and how augmenting wastewater treatment and reuse can help us steer agriculture towards less water intensive pathways.
| | |
| --- | --- |
| | Report on 'Water Sustainability Assessment of Gurugram' |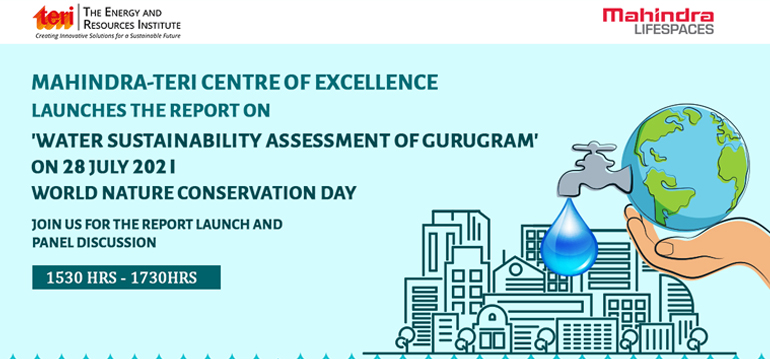 The report on Water Sustainability Assessment of Gurugram was jointly released by TERI and Mahindra Lifespaces Developers Ltd. The report analyses various parameters essential for water sustainability to develop a framework to analyse the flow of water within Gurugram and select key indicators that impact the urban hydrology of the city. This way, the study has been able to provide recommendation on different fronts such restoring dying water bodies, implementing flood resilience measures, ramping up water infrastructure such as pipelines, treatment plants, and more, for sustainable water management in the city.

| | |
| --- | --- |
| | Report on 'Mobilizing the Private Sector for Developing Resilient Infrastructure in India' |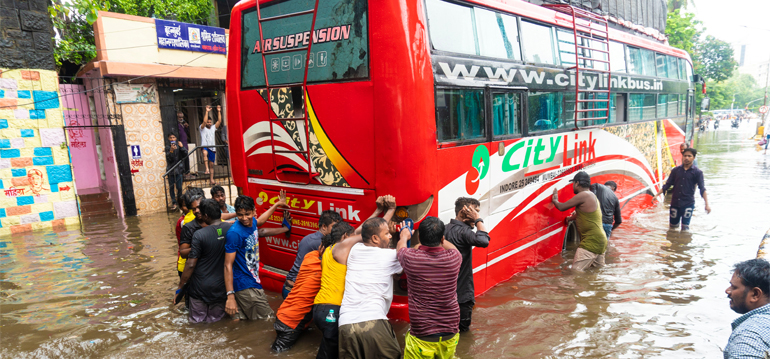 TERI's report on Mobilizing the Private Sector for Developing Resilient Infrastructure in India assesses the role of the private sector in developing climate resilient infrastructure by focusing on the interface between the policy framework and finance. The report is a part of the Strengthen National Climate Policy Implementation (SNAPFI) project, funded by Germany's International Climate Initiative (IKI). It also makes recommendations for the way forward towards such infrastructure.

| | |
| --- | --- |
| | Launch of Phase IV of the Green School Project |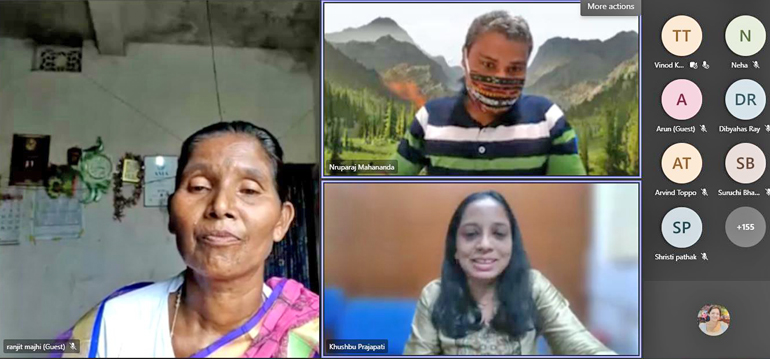 TERI and the Tata Steel Foundation initiated the fourth phase of the Green School Project this July. Beginning this phase, the project has extended itself to include Sukinda, a town in Odisha that is a part of Tata Steel Limited's operational area, and introduced a new 'Green Buddy Programme' to develop capacities of students to conduct and lead school activities on various aspects of sustainability.

The Bhotiyas have grazed their sheep in the Bugyals and the Valley of Flowers in Uttarakhand for generations. However, increasing concerns around the degradation of these spaces has led to restrictions being imposed on the movement of traditional communities there. As the threat of climate change rises, the need for concerted and inclusive climate action becomes critical. Jitendra Singh, TERI-EJN fellow, reports how leveraging the traditional knowledge of local communities like the Bhotiyas, rather than alienating them from these landscapes, can help conserve the rich biodiversity of the Bugyals.
That is all for this time. Stay safe, and see you next month.


Copyright © 2021 TERI
TERI (The Energy and Resources Institute), Darbari Seth Block, IHC Complex, Lodhi Road,
New Delhi - 110 003, INDIA
Tel. (+91 11) 2468 2100, Fax (+91 11) 2468 2144 and 2468 2145,
E-mail mailbox@teri.res.in